Abstract
---
About 15% of newborns are born in a state of apparent death and require some form of resuscitation. In Japan, about one million newborns are born each year, so more than one hundred thousand newborns need to be resuscitated . The Japanese Society for Perinatal and Neonatal Medicine established the guideline in such cases; Neonatal Cardio-Pulmonary Resuscitation (NCPR). However, deliveries can happen in various places; hospitals, obstetrics clinics and midwives' houses, and the specialists can't be there every time. For this reason, it is important not only for specialists but also for all health-care workers to train NCPR.
The training courses using manikin simulators are being held to popularize NCPR. However, the training with manikin simulators has problems: the large burden on the instructors and the low reality of the training.
The purpose of this research is realizing the neonatal resuscitation training system that can simulate various scenarios according to the guideline and present advice based on the quantitative evaluation of treatments. In 2019, we developed the neonatal resuscitation simulator WAKABA-4 (WAseda Kyotokagaku Airway BAby-No.4.) This simulator can simulate the breathing motion of the inspiratory retraction and the spontaneous breathing, which is the indication of the treatment in the NCPR algorithm.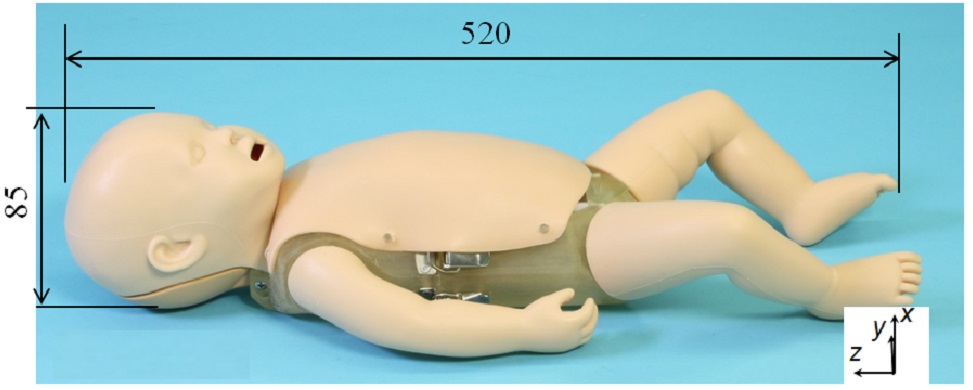 Fig.1 WAKABA-4